Synthesis Technology: Automating Investment Marketing for 20+ Years
It's hard to believe Synthesis Technology has been serving the investment management marketing community for over 20 years now.
I began imagining running my own software company not long after entering the business world in the early 90's. I started my career working in a variety of roles for companies like Datalogics, Inc, Frame Technology, RR Donnelley Financial, and Document Direction, Inc. During that time, I gained valuable experience in marketing and sales, engineering, and client services. As an employee, I kept a mental list of how I would run my own business when I had the chance. I paid close attention to the good and bad decisions made by my employers and scoured business publications looking for the true gems of wisdom. When friends and co-workers talked about the stuff they were dealing with at work, I listened. And I paid attention to stories of inspirational leaders. I wanted to make sure that when it was my turn, I'd get it right.
To me, "Getting it right" means creating an investment management marketing business that is sustainable in every way:
Build technology that can persist and adapt
Create a software and services model that keeps customers satisfied for the long term
Cultivate a company culture that attracts talented people and rewards them for their efforts
Develop trusting relationships with every customer, vendor, employee, and partner we work with
How it all Began
Synthesis Technology was launched in 1998. We had an idea, a launch client, a couple of laptops, and a lot of ambition. In the beginning it was easy to be 100% open, collaborative, and focused on the same mission. However, maintaining it became more difficult when we hit 20 people and much more challenging as we passed 40.
Today, Synthesis Technology has approximately 50 employees.  We understand that it takes a daily concerted effort to maintain our mission and values. We've learned that you have to promote and demonstrate your values much more overtly at this point if you want them to persist. In other words, we have to put forth a consistent effort to create good communication with our employees. But this is an effort that is very worthwhile. We aim to grow our company by building trust through communication, both with our employees and our customers. We believe it is our culture of trust and communication that will set us apart and drive our success in the marketplace.
The Synthesis Technology Vision: Help Investment Companies Go-to-Market at Scale with Data-Driven Automation
At Synthesis Technology, our mission is to enable investment marketing and sales teams to reduce costs and grow AUM through industry-leading automation technology.  
To accomplish our mission, we take the view that all roads lead back to the customer. While it's impossible to achieve A+ marks with every client every day, we do everything we can to do right by our clients. When we fall short, our clients can trust us to make things right. Steve Covey, author of the 7 Habits of Highly Effective People, is quoted as saying: "Trust is the glue of life. It's an essential ingredient in effective communication. It's the foundational principle that holds all relationships." In order to be effective in our professional relationships, our company vision revolves around trust.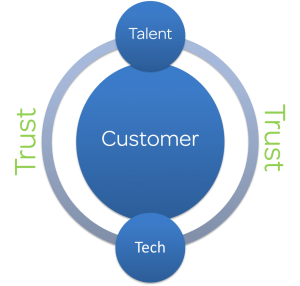 This is no joke to us. Any technology vendor can write RFP responses talking about their quality assurance processes, advanced technology, and other claims to fame. Most even have the one client that will take a reference call and say all the right things. At Synthesis Technology, we know that the modern tech buyer is skeptical and suspicious of all things "vendor." Our goal is that every single client is a positive reference. And the key word we want our clients to say when they speak of us is "trust." We earn and maintain our client's trust by focusing on great communication, hiring top talent, and providing solutions and services that solve the investment industry's marketing operations challenges.
Our Talent
We work hard to make Synthesis Technology a place where people really want to work.
This is a natural outgrowth of our mission to create trust. Unhappy employees are unlikely to do their best work for our clients, so we work hard to create trust with our employees. In addition, the work we do is challenging. We focus on employee engagement and happiness by making sure that our team members know they are valued and appreciated.  Our goal is to make them feel they are part of a team and that their input is valued. Our staff enjoys working at Synthesis Technology because we surround them with similarly bright and talented individuals. We also make sure to express gratitude for their achievements, both large and small.
A 20-year-old tradition at Synthesis Technology is our Monday "Awesome" Meeting. This is a weekly all-hands lunch and chat session in which we reaffirm our values and mission. We do this by giving everyone the opportunity to acknowledge "awesomeness" from the previous week. The idea being that saying "thank you" out loud lets people know that their efforts are important and genuinely appreciated.
Our Technology
We work hard to ensure our technology is highly flexible to truly meet our clients' needs.
We understand that our clients are real people, with real and practical business and personal needs. Our role is not to limit or manage them into our preconceived idea of how their world should work. Our job is to listen closely and come up with solutions that are spot-on to their real needs. Thus, while our technology is driven by the typical corporate requirements for efficiency, accuracy and reliability, we prioritize its adaptability.
The idea is that in any given week we can adapt the product or configuration – on demand. We strive to adapt to anything a client needs without creating orphaned features or clients. This is made possible by creating technology that functions as a true platform. We focus on creating a sophisticated toolkit, not a closed-box with annual code freezes and 18- month feature-set backlogs.  Doing this while supporting a unified code base across deployments and clients is no small feat. However, we do it to keep our business both responsive and responsible.
Synthesis Technology Values
At Synthesis Technology, our core values guide our mission:
Building Trusted Relationships –

We are committed to building integrity and successful relationships with our clients, partners, and employees.

 

Engaging Our Talent –

We are committed to creating a positive culture where employees are respected, valued, and encouraged to share ideas that help us fulfill our vision and mission.

 
Achieving Success Together –

We value and promote personal and professional success. We work to create a culture of respectful communication, diversity of perspectives, and collaboration.

Embracing a Winning Mindset –

We are proactive and deliberate in our actions to deliver results for Synthesis and our clients. We hold ourselves and each other accountable for achieving our goals. 

 
Our Culture
We are successful because of the confidence, partnership, hard work, and dedication from our clients, partners, and employees.
We're always looking for talented individuals to join our team. If you're a talented professional looking to make a difference in the fintech industry, visit our careers page to browse our current opportunities.
If you are an investment marketing, product management, or sales professional in financial services who is looking to improve your marketing and sales processes, give us a call or drop us a line…we would love to hear from you!
– John Toepfer, Founder & CEO at Synthesis Technology